Soon the first blossoms begin to appear
some where in the Fourth Street* though it's not really clear
(*this photograph is actually Prince Edward St--not too far from Harare's Fourth St.--at sunrise.)
Then tree after tree in the Avenues so neat
Burst into flower in the hot October heat....
(This is the Avenues in Harare, Colquhoun St to be exact.)
...Purple blossoms flutter in glorious array
on the corner close by bunches of colourful flowers...
a sight to remember for everywhere
purple Jacarandas coloured the Summer air.
(Every summer, Harare bursts into a symphony of Jacaranda trees. Absolutely beautiful.
This is also the Avenues area of Harare.)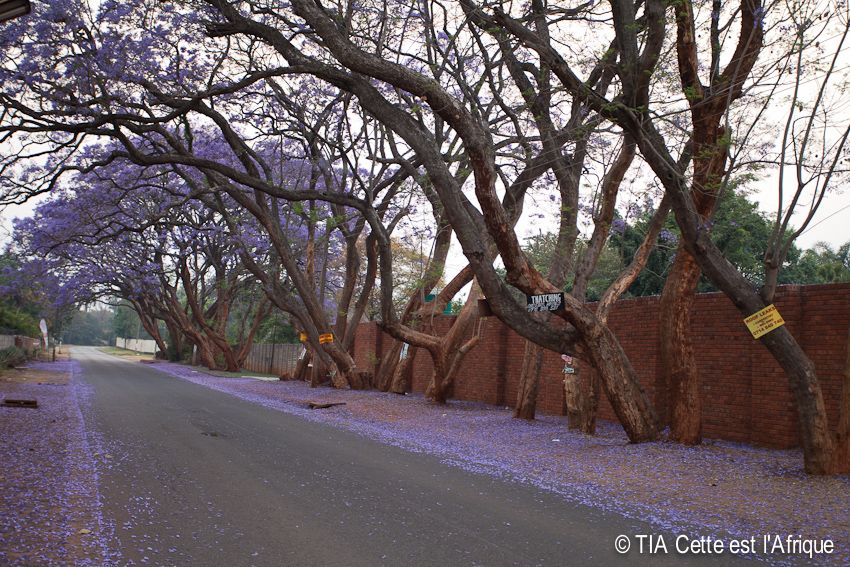 Tree after tree in the avenue and street
show their deepest purple where white clouds and blossoms meet
(This is Lomagundi Rd. in the Avondale neighborhood.)
The purple blossoms with flats and houses blend
a feast of beauty so colourful and rare
filled with wonder at the City so fair.
(The Avenues neighborhood.)
A high wind and a shower of rain
produce a purple carpet once again
as the blossoms fall to clothe the damp earth...
Oh lovers of beauty raise up your banners
in tribute to the City's early planners
for to them and to nature we are ever in debt
for as magnificent a picture as the gods ever set.
Like the poetry?
It's from a poem called Jacaranda Time by Robert Cornell
written specifically about Harare's Jacaranda trees. The full poem
can be found here
.